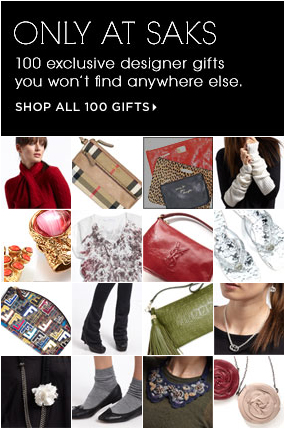 Tis' the season for holiday exclusives. Since it's never too early for us shopaholics to begin our holiday shopping, be sure to check out the Saks 100 exclusive designer gifts list
of items you'll find only at the store. You'll find everything on your list, plus some things you never even knew you wanted! Items range from the best in designer bags and purses, to unique finds like touchscreen gloves and mink scarves, and luxe gifts such as stainless steel watches, chunky cocktail rings, metallic sandals, beauty sets and more. Trust us when we say there's something for everyone.
But since we're partial to bags, check out some of the ones exclusive to Saks, below:
Be & D Woodstock Leopard-Print Shoulder Bag
Chloé Paraty Crossbody Shopper
Fendi Zucchino Leather Pouchette
Gucci Joy Logo Shoulder Bag
Yves Saint Laurent Belle Du Jour Crossbody Mini Bag
Jimmy Choo Sky Metallic Leather Hobo
Marc Jacobs Westside Python-Print Satchel
Nancy Gonzalez Crocodile Clutch
Prada Tessuto Camouflage Nylon Wristlet
Rebecca Minkoff Leather & Calf Hair Mixed Pouch Set
Valentino Petale Chain Strap Leather Mini Bag
Burberry Check Grainy Leather Lipstick Pouch
Click the link to shop the entire Saks 100 exclusive designer gifts list
.